With wide-reaching accolades and awards, The Archival Eco-House is conceptualized by owner, Nestor D. Archival, a professional Electrical Engineer from the Queen City of the South, Cebu.
In-depth View of the Green Life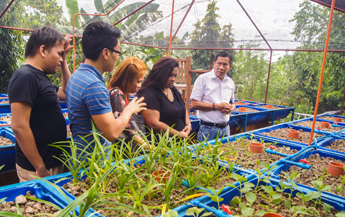 A fulfilled promise that is what The Archival Eco-House is made of.
It was just a mere seed of the owner's idealism which he continually nurtures with his commitment to protect Mother Nature. The Archival Eco-House is our version of a provincial sanctuary within the Queen City of the South. Our history can be traced back to December 2003, when the plan to build an eco-friendly place was envisioned. The construction of our facility began in 2005 and was later on occupied on December of the year 2007.
The Archival Eco-House has been recognized and awarded after we became well-renowned to be the first of its kind in the Philippines. Ever since then, Filipinos and foreign visitors has frequented the place. It is filled with people hungry for an educational tour all week long. The vast lot we occupy sprawls up to 7,000 square meters. This sustainable, self-sufficient home is designed by its owner, Electrical Engineer Nestor D. Archival, who is also Cebu City's Most Outstanding Councilor where he headed the Committee in Environment. He fondly refers to himself as the "caretaker" of the said house.
A House Close to Nature...
Common sense ignited the passion of the owner to build our unique form of a self-sustaining yet modern-looking eco house in the country. We dwell in the same Earth so this is our own take in the campaign to greenify our environment. As time passed, The Archival Eco-House became widely known as "a house close to nature". We grabbed the attention of the mass media. It then became a facet for our cause to be acknowledged. It gave us pride and honor to be showcased in many local, national and international mediums. The place was also featured by two giant networks; ABS-CBN's "TV Patrol" and the similarly popular show of Jessica Soho of GMA Network.
A tour to our humble place is comparable to bringing life to the things you only read from Ecology and Environmental Engineering books or other references alike that illustrates an ideal green living. We characterize a nature-friendly existence amidst the buzz of a busy urban. Top of that, we can operate without the need of a commercial electricity provider. Engr. Nestor D. Archival installed wind mill powered turbines, biogas facilities and solar energy systems that will suffice the household's electricity needs and mind you, even the neighboring houses too. There, we will encourage you to practice effective use of natural resources, at the same time, prepare to be amazed of how the house efficiently uses recyclable materials as well as animal and human wastes to generate energy and bio fuel. In fact, you will find yourself in awe of how tin cans, bottles, styrofoams, plastic cups, PVC pipes and yes, even large, round Calumet baking powder drums were creatively used to beautify our man-made habitat.
Earth, Wind and Sun Compound
The 13C jeepney route to Mandaue City will bring you luck as you alight in Sitio Ylaya, Barangay Talamban. A short walk on a slightly rugid road, houses seem to lessen in number as you near the now popular destination. It is as if you are entering a secret hideout to run away from the usual city you have gotten used to.
Our home will greet you, with a vertical garden as our façade. The usual use of plastic fast food soda cups and old rubber tires were repurposed as flower pots. This is somewhat our expression of how we can conveniently maximize our resources not only by using biodegradable and non-biodegradable materials but also with a sprinkle of a good design. Right outside our gated household, you will see a treehouse sitting atop of one too many tall trees that helps us retain coolness and stabilize the temperature in the area. These trees we grew at The Archival Eco-House lets us enjoy the advantage of having an ample supply of clean, fresh air which is rare in a crowded city where pollution is embraced as a norm. As you go inside the compound, you will see nicely built playhouses made from unused woods from construction sites and intelligently crafted furniture from the same materials. These wood works are equally lovely and of quality enough to export worldwide. Beside it is a two-storey wooden structure we call NuTree Café where vegan food is served. Yoga classes and plenty of recreational activities are organized here for the scholars supported by Engr. Archival. As you walk further the NuTree Cafe, you will be stopped by a climbing tower that serves as a wall of a solar-powered restroom which is strategically situated in the middle of its expanse. Another area that intrigues our visitors the most is our Aquaponics Garden. This is the place where plants and fishes need each other to coexist. It is basically a water-based gardening and fish cultivation. The plants here does not need soil to grow. This type of garden was put together to promote a sustainable agriculture system. Our simple set up of the garden is composed of a grow bed, a fish tank and a pump. The water that contains fish waste is pumped up to the grow bed to water the plants. Then the cleansed and nutrient-rich water overflows to the fish tank. It is a purely a cycle of an efficient technique.
As you look around further, our advocacy in promoting green living will become more evident. Children and elderly can enjoy a trip around the property on our "sun-powered" vehicle, the e-Trike.
In most cases, we only get to see passionate environmentalist talk on TV about the advantages of an Eco-House. Fortunately for us, Engineer Nestor D. Archival made this eco-friendly home concept a reality. Thus, we are given a chance to visit a place where we will be filled with the awareness on how we can reuse, reduce and recycle or just simply de-stress. Whatever the circumstance may be, our facility will unquestionably inspire you to help preserve the environment and make your homes greener. In fact, our family has dedicated our property to share to the community that once we start looking out for Mother Nature, it will start taking care of us too.